Above photo is William E. Fisher, Jr. Training Florida Department of Health Inspectors with Florida's Agency for Health Care Administration (

AHCA

). 2013
SEMI used by more Federal, State, & County Agencies then any other for their personal to inspect, remediate, & consulting for mold related issues! With members in- The United States, Canada, Bermuda (UK), The Bahamas, Brazil, British Virgin Islands & Ireland.
Below photo SEMI training class, Marine Corps Base Camp Lejeune, NC. 2003
SEMI is a National & Internationally Recognized Training Institution that has set the bar in the Art of Mold Inspection, and Mold Remediation Training since 2002
Our track record in the training of Government and State Employees gives SEMI students the knowledge their certification is relevant by our association and training of these governmental entities. For those seeking to attain a Florida License as Certified Mold Assessor or Certified Mold Remediator. It is recommended that the candidate for licensure take a Preparatory Study Course before sitting for the State of Florida's third party testing. Our program could be useful for those who may need additional training to expand their knowledge base before taking the exam. Only the State of Florida can issue a license. Our Instructor is a Florida Licensed Certified Mold Assessor and Certified Mold Remediator with over 38 years experience in the housing industry. Mr. Fisher also received a letter of commendation from the Florida Department of Environmental Protection in 2007. Our training program could be the key you need to succeed in this fast growing industry!
SEMI's Mold Inspection and Mold Remediation training course has been approved for and used by: The Department of Defense, Department of the Interior,Federal Prison System,State of Mississippi Department of Health, Ministry of Health Government of the Bahamas, Veterans Health Administration Gainesville Florida, Orange County Building Department California,Jani King the worlds largest cleaning Franchise,Environmental Professionals in Seven Countries, and all across America!
SEMI's CMI & CMR Programs are also used by county governments around the country for the training of public housing administrative personnel. SEMI was also the first retained to train first responders post Hurricane Katrina in New Orleans, LA.
SEMI by de facto standard has achieved a dominant position by public and governmental acceptance of our unique air quality training programs. Be cautious of training organizations whose only certification is by association of other associations. There are no federal standards in regards to mold contamination. There is no federal governmental body that certifies any organization over others in regards to the mold inspection or remediation industry. SEMI stands alone as a professional training institute standing on it own merit in its selection by relevant governmental entities, businesses, and environmental professionals around the world for their training.
SEMI by its strength and commitment to quality education allows us to best serve you. With members in The United States, Canada, Bermuda (UK), The Bahamas, Brazil, British Virgin Islands, & Ireland. SEMI- membership is respected as an industry leader in the field of indoor air quality internationally.
SEMI students once certified by our training program are members for life without any yearly re-certification fee! No re-certification fee has ever been charged to a student once completing our training program. Those fees charged by other organizations are just another method to keep dipping their hands into your pocket.
SEMI's Advanced 24 hour training program also meets the requirements for the State of Louisiana Mold Remediation, and Basic Mold Assessment program.
Quality Education Is Based On Experience At SEMI, Inc.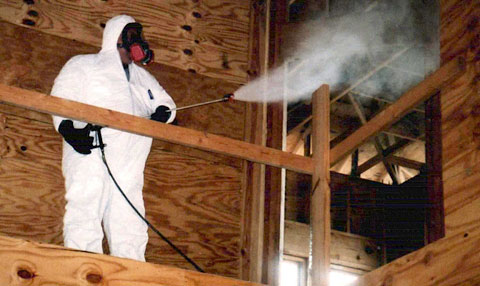 Above Photo: William E. Fisher, Jr. President of SEMI & Senior Instructor
Seize This Opportunity Today! Expand Your Business, & Knowledge!
SEMI can travel to distance locations for government or privet industry training. This is for larger classes or small companies who have trouble transporting staff to be trained at our Panama City or Jacksonville Florida training locations.
All fees will have to be negotiated for this out of area training.
---
SEMI President and Founder William E. Fisher, Jr is a Florida Licensed Mold Assessor and Mold Remediator. Bill has been in the housing industry for over 38 years and is one of the few professionals in the toxic mold industry who offers litigation support to attorneys and has testified as an expert witness on cases concerning mold contamination and construction defects resulting in mold contamination. Experience in all facets of residential and commercial construction, Mr. Fisher is known as one of the best mold inspectors and mold remediators in America today. He is using his experience to instruct others in this fast growing industry. Mr. Fisher on September 11th 2007 received a letter of commendation from the Florida Department of Environmental Protection for renovation work on State owned mold contaminated buildings, and consulting work for the State of Florida.
---
Dear Mr. Fisher
On behalf of the employees here at Family Housing Division, I wish to thank you for traveling here to Camp Lejeune, North Carolina, to conduct the Mold Certification training. The class was very informative and is beneficial to us in our everyday jobs. I have received many positive comments regarding the class.
We appreciate your time and hope you had a wonderful trip back home. We look for to working with you as needs arise in the future.
Sincerely,
M. Simmerman 11-24 – 03
---
Mold Attacked by Jani-King International In New Orleans
Mold Remediation Expert brought in to assist in Clean-Up efforts
NEW ORLEANS, LOUISIANA - (September 15, 2005) - Jani-King International, the world's largest commercial cleaning franchise company, is attacking mold spores in and around New Orleans. Since Hurricane Katrina's departure from the Gulf Coast, tens of thousands of homes and businesses have become breeding grounds for dangerous molds.
Jani-King has been contracted to clean multiple facilities in the Gulf Coast region that are infested with harmful mold spores as a result of severe flooding. To assist with the clean-up efforts, Jani-King has brought in an expert in the field of mold remediation. William Fisher, President of the Southeastern Mold Institute and former inspector with the State of Florida, is working with Jani-King to identify flood problems and eliminate the mold.

Dear Mr. Fisher
I attended your class October 14-October 15 of 2005 as a result of the devastation of the Mississippi Gulf Coast by Hurricane Katrina. As a Safety Consultant for the Mississippi Department of Health, it is my job to oversee the mold remediation being done in the numerous health care facilities affected by Katrina. Therefore, it is imperative that I understand not only the problems that mold can cause, but also the proper way to test and repair the affected areas.
Upon completing your class I am certain that the information you taught me will greatly enhance my ability to insure patient safety and help root out unscrupulous contractors operating in my area. The class was very informative and the visual aides greatly contributed to the overall presentation. Your attention to detail and the ability to keep the class focused on the learning objectives was excellent. I consider the class fee to be one of the few bargains on the market today.
With Great Appreciation
Daryl H.
Safety Consultant
Mississippi Department of Health
Department of Health Facilities Licensure and Certification.
10-24-05
---
Clearwater, Fl.
I have been in construction all my life in one form or another I knew about the dangers of mold but dismissed it in my habits and mind but after taking this course my employees and I myself will respect mold and remediate to the fullest existent.
Thank you for this class and waking me up.

V. McMillion 3-17-05
---

Madera CA.
The course is short and compact. It is just enough to get one going in this business. It is after all just the beginning and it will be up to me to expend my education in this field.
Thank you for your help. D. Younger. 3-16 –05
---
Atlanta GA.
I have learned so much from this course. Thank you so much. I sale real-estate properties in Metro Atlanta, I have five properties that have mold problems. 98% of classes that I have had on mold for Realtors have been wrong.
Again thank you for helping me find out the truth.
D. Hankins. 11-04-03
---

Bryant Az.
The course was very educational and the forms helped out a lot. The material covered a lot of different aspects of the field and has helped me greatly.

Thanks
L. Gladden 10-23-03
---

Wellfleet Ma.
The course is well put together safety is the key and should be adhered to. Being in the Semi Conductor business for twenty plus years, I know how important PPE ( Personal Protective Equipment ) is. Please keep me updated with all new material.
Thanks. L. Crotean 10-02-03
Vero Beach Fl.
I found the course to be very informative. The personal experiences also give more insight. The course is written so that a layman can use it and understand it.
Thanks. O. Messinger 09-12-03
---
Metairie LA.
The course length is just right and the course information was very good at the hands on class in Panama City, Fl.
Thanks W. Martin 03-19-05
---

Plano Tx.
The materials are very rich and easy to follow. It shows that the writer has a deep understanding and lots of on the job experience of the subject matter. The facts are very well stated and no beating around the bush. This is better than most textbooks I read in college.
Thanks D.Eenigiator 09-10-03
---
Chambersburg Pa
Due to time constraints, traveling to take this course would be very difficult. This new correspondence course is perfect for me.
Thank you! D.Gladhill 08-31-03
---
Longboat Key Fl.
The course was informative and practical. I was particularly impressed with the interaction between the students and instructor, which allowed me to ask many questions related to the real world not covered in manuals.
Thanks. N. Niemann 02-19-05
---
Wantagh, NY
The Information is great!
I would like to be updated on any future info that you could possibly give me.

Thanks J. Eisinger 12 – 15 – 06
---
Kenner. La
Class was Excellent would take it again, and again, and again! Please call me
for future material.
Thanks for a wonderful learning environment.

David G 05-20-06
---
Warner Robins, Ga
This class is a grate learning experience that will be in my memory forever. I would recommend it to anyone. This class will be an asset to promote a new business venture.
William L. 6-15 –06
---
Bella Vista, Ar
This class gave me a good understanding on how to get started in the mold inspection industry. I am pleased with the knowledge I have gained in the last two days. This class exceeded my expectations.
Brian G. 7-15-06
---
Miami, Fl.
This course was very Informative and properly explained to the class. Best training class I've ever attended.
John B. 11-18-06
---
Miami Gardens, Fl.
Excellent and Informative well prepared material. Great Job!
John G. 11-18-06
---

Metairie, La.
Very Informative. I enjoyed the way you tied the construction into the mold testing and remediation.
Larry McN 03-05-07